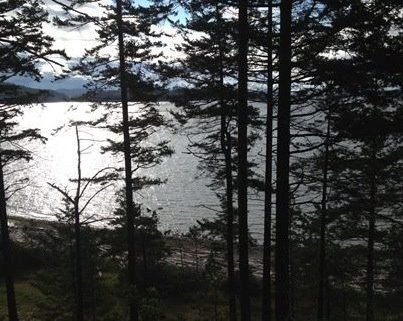 The Vegetarian Downward Dog = Bliss
Beautiful coastal scenery…check!
Downward dogging with amazing people…check!
Delicious vegetarian fuel…check!
Feeling pretty zen…check!
Last week I, Kelly, your Business Development Coordinator, had the amazing opportunity to visit a very special place on Cortes Island, BC called Hollyhock (www.hollyhock.ca) and participate in one of their many programs.  Amazingly, while looking up which program to sign up for, I saw that they were offering a Blissology Yoga Program (www.blissology.com) with none other than Eoin Finn whom I have been bending into pretzel like contortions with for the past several years via my DVD player!  Blissology Yoga Program here I come!
From the get-go I knew that Hollyhock and The Crossing were kindred spirits; both offering spectacular settings in nature, a prime ambience for connection, and the desire to have guests leave more full and rejuvenated then when they came.  I am happy to say that my experience there supported the many thoughts that I had going into this adventure!
Our team at The Crossing has known that individuals, not just groups, are looking for an opportunity to engage and expand their horizons, and my recent trip to Hollyhock solidified that.  It was amazing to be part of something so stimulating on all fronts, to meet people looking to better themselves via certain paths but at the same time being open-minded and learning so much from each other.
It is one of The Crossing's goals to work on the development of a variety of programs to offer to the public.  Our desire to share the land, energy, and beauty of this special place with as many people as possible is one of our dreams!  Please stay tuned to our website, blog, and twitter to learn more about up and coming programs, events, etc., that we will be offering at The Crossing.  Additionally, if anyone is interested in bringing out their own program to The Crossing we would love to chat so don't be shy and send us an email at [email protected].
Overall my experience at Hollyhock was fantastic and I look forward to going again!  For those yogis out there I encourage you to take a look at Eoin's site, he has some amazing retreats coming up…Bali and Baha just to name a few.  And don't forget, if you happen to be out in the Cortes Island area, I highly suggest you stop in for a visit to Hollyhock.  The beach, the trees, the garden, and the quiet are the perfect recipe for summer!
Until next week…Namaste!
https://crossingexperience.ca/wp-content/uploads/2012/07/Blog-Post-July-27.jpg
336
403
crossing-editor
https://crossingexperience.ca/wp-content/uploads/2023/04/castleavery-logo.svg
crossing-editor
2012-07-27 14:11:30
2012-07-27 14:11:30
The Vegetarian Downward Dog = Bliss