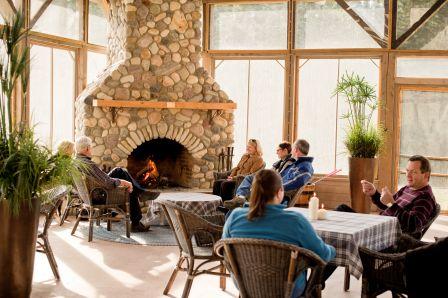 So What Makes The Crossing Different?
We often ask ourselves, if we were company looking for a retreat or meeting space what would we want to know about The Crossing? Our internal dialogue usually goes something like this….
We are a conference and retreat facility in the beautiful foothills of the Rocky Mountains. So What?
So, we can accommodate small to mid-sized groups in quaint rooms with ensuites and indvidually selected antiques. Great, so what?
So, we offer convenient on-site delicious homemade meals. A lot of our competitors do, so what?
So, we're just different! So what, prove it!
GLADLY!!!
There is something so intangible about this amazing place that it is often hard to find the words to accurately describe it without going into a soliloquy about the wonders of The Crossing! This week's blog post is a challenge…we challenge you to come and visit us, take a site tour and not fall in love. Trust me, it is near impossible; I see innocent corporate planners and programmers swoon as they walk through the front door (that is if the picturesque drive hasn't already convinced them). It may not be fair that we sweeten the pot by incorporating your site visit with homemade cookies and cakes but that is just our style, welcoming and hospitable. Our team is second to none; they are genuine and kind hearted. I also challenge you to not have the urge to hug them when you leave, they tend to have that effect on people.
You will quickly see that there is something 'special', 'unique' and 'charmingly quaint' about being at The Crossing. It sneaks up on you like the delicious aromas that waft from our kitchen! Where else can you take your team to learn and truly be secluded in nature but with all the modern day conveniences? Where else can you go where you have the ability to be the only guests allowing complete and utter privacy and concentration? Where else can you head to the living room in your jeans and have a glass of wine by the fire only to come to the realization that the amazing conversation you have been having is with your colleague and happens to have absolutely nothing to do with work? These are the types of things that The Crossing can offer; we provide the opportunity for connection.
To learn more about how you and your team can connect at The Crossing please feel free to call us at 403-932-3392. We would love to learn how we can help create your perfect Crossing experience.
Enjoy the weekend!
https://crossingexperience.ca/wp-content/uploads/2012/04/CrossingGhostRiver-483.jpg
298
448
crossing-editor
https://crossingexperience.ca/wp-content/uploads/2023/04/castleavery-logo.svg
crossing-editor
2012-04-27 14:03:47
2012-04-27 14:03:47
So What Makes The Crossing Different?