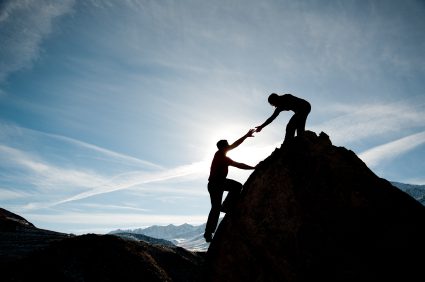 When is the last time you paid money to spend a weekend being openly vulnerable with a group of strangers?
Most would say never, but then again most have not yet experienced The Daring Way™ for Leaders. This past weekend at The Crossing, Jenn Lofgren of Incito Consulting Inc. and Jamie Davidoff of Spark Success Coaching, both Certified Daring Way™ Facilitator Candidates, lead an intimate group of strangers (yes we realize this sounds a bit like an oxymoron) on an intense two day leadership journey. Individuals from varying levels of management and leadership positions, with a confetti of professional backgrounds including health care, finance, energy, technology, and academia, descended on The Crossing looking for ways to become better leaders. What they didn't realize was that they would have a transformational experience and develop deep, lasting bonds.
To give a bit of background, as per the website, "The Daring Way™ is a highly experiential methodology based on the research of Dr. Brené Brown. The method was designed for work with individuals, couples, families, work teams, and organizational leaders. It can be facilitated in clinical, educational, and professional settings. During the process we explore topics such as vulnerability, courage, shame, and worthiness. We examine the thoughts, emotions, and behaviors that are holding us back and we identify the new choices and practices that will move us toward more authentic and wholehearted living. The primary focus is on developing shame resilience skills and developing daily practices that transform the way we live, love, parent, and lead." Needless to say, one must realize coming into this retreat that there is going to be some serious internal work required, but the benefits will last a lifetime!
The Crossing team welcomed Jenn, Jamie, and the participants on Friday afternoon and they didn't waste any time getting started. Working through several exercises to create trust was the first task. Through said exercises and statement of intentions for the weekend, everyone quickly realized how much they had in common. And, what better way to continue to build trust and foster conversation than over dinner! As Jenn shared, "(Chef) Doug spoiled us like your best Grandma visit, ever!" After dinner the group picked up where they left off and dove into the myths of vulnerability and stepped into areas of risk, uncertainty, and emotional exposure. They rounded out the evening by starting to explore using the metaphor of an 'arena' representing wherever it is in your life that you are looking at showing up and being brave from a leadership context. They discussed what potential seats could be in the arena and who sits in them. After this it was time to call it a night and everyone eagerly made their way back to their inviting rooms.
After a hearty breakfast the participants took advantage of a beautiful morning and set out on the property for a walk to complete their first task of the day; discussing a Harvard Business Review article on Authentic Leadership that had been given to them in advance. Once back in the meeting room the day really got started with the presentation of their homework assignment from the previous night which was choosing a personal theme song. The morning was off to a rocking start (pun intended)!
But the party couldn't last forever and hard work reared its head again. Saturday was full of the guts of The Daring Way™ program. Hard topics like empathy, self- compassion, shame, and examining values, pushed participants out of their comfort zones and forced them to 'dig deep', a phrase often used by Brené Brown herself, to come up with authentic answers to help forge a more wholehearted path. All of this hard work required some brain food and as Jenn relayed, "we ate and we ate and we ate!" After sharing another delicious home cooked dinner, the participants were ready for some much deserved R&R, but instead it was homework time. The assignment was extremely challenging, especially after an emotionally and mentally exhausting day. The crew rallied though, and found strength in the trust and meaningful friendships that had been built within the brief 24 hours they had spent together. They headed off to attack the task. Shortly after Jenn and Jamie found the small group working away, seemingly enjoying the torturous assignment, with hoots of laughter sparking the air late into the night.  The wine might have helped but it's amazing what a little camaraderie can do for the soul!
Sunday morning was bittersweet as the participants gathered for the start of the final day. As a fresh fire was lit in the conference room, the group eased in to sharing the challenging work they completed the night before.  They discussed how to apply this to their position as empowering leaders, specifically focusing on the delicate art of providing feedback. From here they moved into their final exercise which was choosing guideposts and how to focus on implementing one or two into their daily lives.
Overall the weekend was a great success! We thoroughly enjoyed having the entire The Daring Way™ ensemble with us here at The Crossing, it was a perfect fit! We see one of our strengths as being able to provide a safe and inviting environment that allows people to open up and tap into a deeper level, both as individuals and as a team. Jamie and Jenn had some very kind words about their experience with us which we are very proud to share….
"The peaceful and quiet environment allowed people to be more focused and present. The fact that we had the building all to ourselves was a bonus as well. It allowed participants to freely use the meeting space in the evening knowing that they would not be disrupting any other guests. That also made it feel safe, comfortable and intimate." Jamie Davidoff, Spark Success Coaching
"We couldn't have selected a more suitable place for a transformational leadership retreat. The Crossing at Ghost River was the private, reflective, and beautiful location needed to support our clients going deeper into their work in a way that could not have been achieved in a busy hotel or in a venue in the city. The food and hospitality put us over the top; we felt spoiled in so many ways allowing us to be immersed in the program experience. " Jenn Lofgren, Incito Consulting Inc.
It was our pleasure to host such a dedicated group!  Taking the time and energy to work on oneself, to improve not only their own lives but those around them, to become better leaders and self aware individuals, is something we applaud.  We hope you enjoyed your time with us and feel like The Crossing is the type of space that emits a welcoming, safe and open atmosphere.  Hopefully this incredible experience can be shared here again in the future!
https://crossingexperience.ca/wp-content/uploads/2015/01/couple-climbing-a-mountain.jpg
282
425
crossing-editor
https://crossingexperience.ca/wp-content/uploads/2023/04/castleavery-logo.svg
crossing-editor
2015-01-22 08:57:35
2015-01-22 08:57:35
Do You Dare?