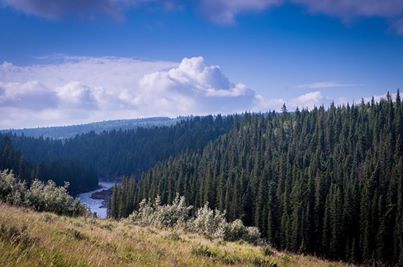 It's hard to believe that in less than 24hrs a new year will be upon us, with many of us saying, 'where did the time go?" So today, in the last few hours of 2014, we wanted to take some time to reflect on what an incredible year it has been.
One of the most important things to us at The Crossing is our relationships, and so, it seems appropriate to start there. This past year has brought us a host of new guests ranging from corporate, to non-profit, education, wellness, public service, and the arts, just to name a few. The variety of the groups and individuals has had such an inspiring impact on our own team and we are constantly learning new things from our guests. We were also extremely proud to welcome back many old friends whose companies and organizations have been visiting us regularly, some for over 10 years; a true honour in our books to have been your chosen host!
A year of firsts comes to mind when looking back through some of the unique, and truly unbelievable events held at The Crossing in 2014! Never in our wildest dreams did our quiet little piece of country paradise think that it would host the Stampede party of the year thrown by The National Music Centre with friends Jim Cuddy, Buffy Sainte-Marie, and Paul Brandt! It was magic, something we will never forget! We also made many people happy when the wish for a yoga retreat was offered by the talented Suzette O'Byrne of Flow Training and Yoga, a very rewarding journey for everyone in attendance and a welcome addition to programs at The Crossing.
Our close ties to art through our sister organization, Reflections West Art, brought the WestGuild artists to us not once, but twice this year. With a retreat in February, and again in August (sharing some events with our friends at the Leighton Art Centre), budding and accomplished artists, both young and old, descended on The Crossing to learn from some of Western Canada's greatest talents. Both weekends certainly were a feast for the eyes!
We would be amiss if we didn't include some of our tried and true fan favourite events, especially our ever popular Mother's Day Brunch and Father's Day BBQ. The holiday season also brings us many repeat guests who happily mix business with pleasure by working in some team building with their annual holiday party. Throughout all of the yearly festivities, one thing is for sure, no one leaves The Crossing hungry, Chef Doug and his team make sure of it!
One of the things that we are perhaps most proud of this year is getting to know and to be in the company of some amazing organizations who do incredible work. Already mentioned are the National Music Centre and Reflections West Art, both bringing the arts to the masses. We are also very proud to be involved with Casting for Life (women's cancer survivors fly fishing weekend), and Diakonos Retreat Society in conjunction with the Calgary Fire Department (couples' retreats to help maintain healthy relationships in a demanding career), among several other organizations who are doing spectacular things in our communities.
Last but not least, we want to reflect on all of the additions and teamwork that has taken place internally this year at The Crossing. It takes a certain person to, not only understand guest service, but to genuinely care for our guests. We feel that we have found those team members and they work very hard to make The Crossing feel like your home. Many long hours, multiple shifts, and time away from their own families was sacrificed to make this a very successful year at The Crossing. For all of this, we want to say thank you, thank you, thank you!
With just a few hours left in 2014, we look back with fond memories and are grateful for all the lessons and opportunities this past year afforded us. Our promise is to study and learn from these so that we can provide an even better experience to all of our guests in 2015!
All the best, see you in the New Year!
https://crossingexperience.ca/wp-content/uploads/2014/12/10294372_705540579488903_5361480120343596008_n.jpg
267
403
crossing-editor
https://crossingexperience.ca/wp-content/uploads/2023/04/castleavery-logo.svg
crossing-editor
2014-12-31 16:40:20
2023-08-26 15:37:50
2014, Thank You