It's your wedding day! You want to do something unique for your celebration, but whatever can you do?
Check out the natural charm and elegance of the
"River House Wedding Package".
Breaking away from tradition can be challenging but it often allows for new and exciting opportunities! At The Crossing at Ghost River we feel we have created one of the most amazing non-traditional wedding day experiences anywhere.
Imagine the warmth of the sun on a beautiful summer morning down by the river – a beautiful setting. Your ceremony's backdrop is a stunning view of the river, the water quietly burbling in the background.
From there your photo ops are endless. Incredible scenery can be found wherever you look, from the shoreline of the river to shady paths among the birch trees or a field of wildflowers, you are sure to find a setting that suits you. It's a photographers dream!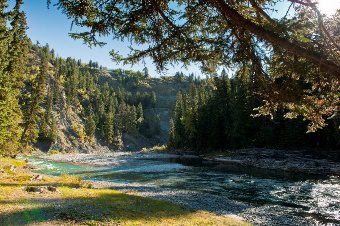 The beautiful River House pavilion adds a natural elegance to your reception.  Imagine a lovely champagne luncheon accompanied by soft music playing in the background and the screened pavilion walls providing stunning views in every direction!
Your guests will be surprised and delighted as the unparalleled view, the natural elegance of the River House, the warmth of the service staff and the incredible food all come together to create an unforgettable wedding experience.
Add some champagne, a few speeches and maybe a cake service to a lovely afternoon of visiting and enjoying the setting and you have just had one of the most unique and special wedding experiences available!