Old Man Winter
Old man winter gave us a gentle reminder that he is still in the area this week.  But Mother Nature is trying to sweep him out with the rest of the snow.
Giving Mother Nature a hand this week is our version of the Dream Team…our Maintenance Department.  Leo is our head of Maintenance and he has working for him Jim (aka Buck) and Jim (aka Cooter).  Reminders of the Newhart television series "Hi, I'm Larry, this is my brother Darryl, and this is my other brother Darryl!"
Our dream team is usually here before us; clearing the walkways and parking lot, turning on the lights and getting the coffee on!  It seems like no task is too big or too small for them to tackle.  Smiles are free and a quick hello if you pass them on the run.
To help you celebrate your Mother….Watch for our Mother's Day details coming out in next week's news!  New items for this year include Caramelized  Onion and Smoked Salmon Tart and Mediterranean Style Chicken.  Sounds de-lish!
Another Week…
We have the flowers ordered and they will be ready in time for Mother's Day, which really is just around the corner.  It always amazes me as to how quickly the days charge at us.  Chef Doug is putting the final touches on the menu and we will be announcing shortly the meal seatings and the menu.
Diane had an unexpected surprise on April Fool's Day.  One of her donkeys decided that she was going to have a baby.  This was a very welcome surprise!  They are still trying to decide on a name.  Perhaps we could help her with some suggestions……
Matt attended the Gluten Free Show in Calgary last weekend, and is attending the GFS Show this week with Chef Doug.  I am sure they are going to come back with some tasty new ideas to try on us.
We have had several tours out here to see the facility and overall things are looking good for a wonderful  summer.  The river is flowing the ground is soft and I am searching for my first crocus.
Speaking of the Ghost River, if you do not have plans for this Friday, April the 5th and are looking for something to do, please try and attend the GWAS Annual Benefit Concert and Silent Auction.  Starts at 6:30 and goes to 10 at the Beaupre Community Hall.  For more information or tickets go to:  http://www.ghostwatershed.ca/GWAS/News-Events.html
Hope to see you there!
New Member of the Team
This week at The Crossing has been a flurry of activity.  There is so much going on in preparation for Spring and Easter.  The deer are strolling through, the gophers are all chipper and happy and our resident squirrel is enjoying the warm sunshine.  Our neighbours cattle are calving which tells us it is definitely Spring.
This week I would like to introduce you to The Crossing' new Sous Chef, Matthew Bird.
Matthew was raised in Pickering, Ontario and has been living and working in Guelph for the last 11 years.  He graduated from Niagara College with honours in 2010 as a Chef Apprentice.  He has worked many facets of the food industry from fast food to fine dining for the last 15 years.
Highlights so far include Chef at the Fat Duck Gastro Pub in Guelph and  a Sous Chef at the Prince of Wales; a five diamond hotel at the beautiful Niagara on the Lake.  He also had the privilege to cook for Prince Charles and Camilla.  After much ado in the kitchen to prepare a fantastic meal for them, Prince Charles advised that he just wanted a burger!
His hobbies include fishing, camping and hockey.  Well we think he has come to the right place to enjoy those hobbies.  He is fan of the original six of the Toronto Maple Leafs.
Chef Doug and the rest of the staff at The Crossing, welcome Matt and look forward to many tasty treats.
SPRING IS COMING….
Hello, my name is Carol and I am the new face here at The Crossing.  I am so excited to be here and reach out to each of you and keep you updated as to the comings and goings here.
First things first!  Congratulations to Kelly and Mike!
Next, I am going to try to fill some hard to fill shoes!  Kelly is going to be a tough act to follow.  She did such an awesome job over the last year getting us here.
I will start with my initial reaction to The Crossing.  Maureen and Diane invited me out to see the facility and meet them – the dreaded interview!  I was so nervous and was driving out from Calgary to see them.  I was afraid I would get lost and be late…you know how it is when you know you need to be on your game.
Turning off of Highway 1A onto Highway 40 and less than a minute onto the property….the majority of my stress was gone.  This is an amazing piece of Alberta!  Lucky me….here I am, officially now.  I get this amazing feeling each and every day.
We have had some awesome groups come through in my short time here already.  I have met some amazing folks in the few days I have been here and all in the comfort of The Crossing.  Where you come to get back to the basics.
I also had the amazing opportunity to attend the MPI ONE Conference in Calgary this past week.  The room was filled with super planners.  I was honoured to be embraced by many of them.  Looking forward to doing more networking with this group for sure.
Thanks for reading me and please send us questions, articles and comments to make us better!
Baby on the way…
It is with great excitement…anxiey…happiness… fear, just to name a few, that I, Kelly, bittersweetly share that this will be my last blog post for the year as my husband and I are about to embark on the crazy adventure known as parenthood!  With our first little one on the way it is time to hand the blogging reigns over to the team as I prep for my next role for the upocming year as Mom!  As all of you who are parents know, there is no greater joy in the world and we can't wait to 'join the club' so to speak.
I am elated to be able to turn things over to my very witty and intelligent colleagues at The Crossing who will continue with the weekly blog as well as our social media campagins on Facebook and Twitter.  We appreciate all of the tremendous support that we have received since launching these endeavours approximately one year ago.  Through the website, blog, Facebook, and Twitter we have thoroughly enjoyed engaging with all of you and building an online 'community' and will continue to do so into the future.  We have appreciated your feedback and ideas and would like to encourage you to continue to submit them to us either via one of our social media platforms, email at info@null0fe.697.mwp.accessdomain.com , or by phone at 403-932-3392.  Our goal is to continue to create spaces that cultivate a place of 'connection'.
In a few weeks time I look forward to sitting down with a cup of coffee and pulling up The Crossing's website to see what is new and exciting on the blog, Facebook, etc., and I hope that you will too!  Many thanks to all of you who have shown The Crossing your support in a variety of ways; it means the world to us and we constantly strive to provide you an exceptional connection experience at, what we feel, is one of the most beautiful places on earth.
Wishing you all health and happiness,
Kelly
Spring Specialties from our Kitchen!
With Spring right around the corner, well at least only a few more Chinooks away, Chef Doug and his team have been hard at work preparing a sensational seasonal menu! With all that is vibrant and delicious, we hope that you enjoy perusing and selecting the dishes for your group's next stay with us! Enjoy and happy eating!
A Bittersweet Farewell
It is a bittersweet day at The Crossing as we must bid farewell to part our heart and soul, Leonard, or "Len" as most of us call him.  After several years, just shy of four and half to be exact, of giving his all to The Crossing, adventure and the closeness of family are beckoning Len back to Ontario.
Since joining The Crossing on September 1st, 2008 as part-time help in the slower season and quickly morphing into our full-time Guest Services aficionado, Len has consistently been a favourite with our guests.  This is not only due to his professional and efficient manner, but perhaps more that his genuine care for those around him, guests or not, is hard to deny; a quality that we will surely miss!
An avid golfer and sports fan of all kinds, Len never passed up a chance to hit the links on one of the many beautiful courses in the area.  Perhaps we will be able to entice him back for a visit with some mountain views from the tee off boxes?  With his guitar always at the ready he was a good sport in entertaining guests around the campfire when his musical skills were requested, only one of his many talents.
Len, we wish you well as you take the next step in life's journey.  It has been a pleasure working with you and know that you will always have a home at The Crossing.
All the best,
Your "Crossing" Family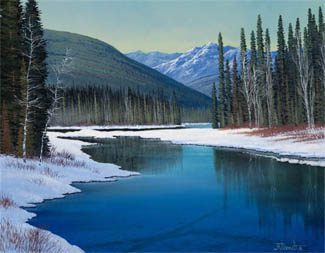 Starting The Year With Something To Talk About!
First and foremost we hope that everyone had a fantastic holiday season, we know we sure did!  And what better way to kick off the New Year than with some great news!  The Crossing is very excited to share that our sister company, Reflections West Art, will be hosting its' 3rd Annual Winter Show and Sale from February 21st – 24th, 2013 at the Hyatt Regency Calgary!
This crowd pleasing show features 11 established landscape and lifestyle artists all hailing from Western Canada.  It is an excellent opportunity to come out and enjoy how their sheer talent captures the beautiful defining features of the West, and the best part is that admission is free!
In addition to the show and sale, there is a unique opportunity to partake in an event dubbed "An Evening with the Artists" which includes a multi-course dinner in Thomsons Restaurant in the Hyatt, wine pairings with all courses, a live musical feature, a opportunity to meet and dine wit the artists, as well as the highly anticipated and much in-demand "Paint by Numbers" original paintings draw!  The "Paint by Numbers" draw entails 11 tickets holders who are each guaranteed to walk away with one of 11 original paintings by the show's artists.  Currently, both dinner and draw tickets are still available but going fast as this event and the show have been gaining popularity over the past few years.  If you would like more information or how to purchase dinner or draw tickets please visit the Reflections West Art event page.
Please mark your calendars and come out and join us and Reflections West Art for a lovely weekend of art, friends, and general fun!  We look forward to seeing you there!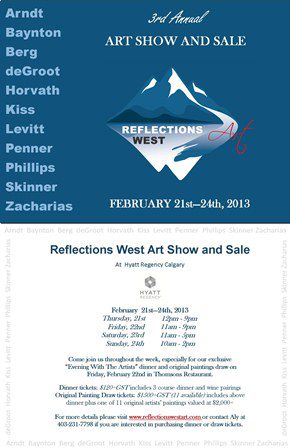 Deck the Halls – Part 6 Comfort and Joy
We have a novel idea for the holidays….as you count down, slow down!
With all the hustle and bustle of the season it isn't hard to get caught up and wound up, when really we should be doing the opposite.  We are going to keep this week's entry short and sweet; take time to enjoy the magic of the season!  Forget about what 'typically' stresses you out and try to focus on the true meaning of this special time of year.  Just watch a child and it will brighten you from the inside out. With many of us having more than enough, help out someone who isn't as fortunate and see how that makes you feel; all of a sudden traffic, over-staying relatives and last minute mall runs are something we are thankful for because it means we have places to go, people to see and the good fortune to be able to give gifts to one another.  Share this joy with others!
So put on the Christmas sweaters, pour an eggnog and sit back and enjoy all sights, sounds, smells, emotions. laughter and love that creates this very special time of year!
A very Merry Christmas to all, and to all a good night!