Plein Air Painting Challenge
Register by August 19, 2013….
West Guild Art Retreat August 22-25, 2013
All Creatures Big and Small…..
The Next Chapter
With the recent chain of events that has significantly impacted many Albertans in a multitude of ways it has been truly inspiring to see the way that we all came together. Neighbours, friends, families and complete strangers have come together to form a bond that has been formidable. Many have worked hard, for no compensation and you can see the fruits of their labour everywhere you look. Flood 2013, although fresh in our minds it is being wiped off our map, one day at a time.
Being new to the province it is this energy that makes Alberta unique. It is this force that allows us to work hard and play hard. Just around the corner is the Calgary Stampede, which is going on as planned with crews working around the clock. The Stampede we enjoy today has evolved from the vision of Guy Weadick. He understood that as much as things change, we need to believe in the way things were.
This year's Stampede's "Hell or High Water" motto is so catchy that there is a new song out by Marc Martel (Canadian singer/songwriter). The song can be downloaded for free at CalgaryStampede.com/highwatersong.
My hope is that despite the travesty of the Flood 2013 that we would continue to work together to help each other whether in crisis or just an extra set of hands.
Come Hell or High Water, The Show will go on!
See you at the Parade….
Update from Us….
We would like to inform all that The Crossing was fine through the heavy rains.  We have a photo taken on Father' Day 2013 which was a spectacular day and then we have a photo a little further back that was taken on Thursday afternoon when the rain slowed down for a minute.
Our thoughts and prayers are with all of our many friends and family that have been adversely affected by the Flood of 2013.
Casting for Life
This week we would like to promote a very special group that is very near and dear to our hearts.
We encourage all of you to check out their website and perhaps join in on their event here at The Crossing. Casting for Life is a non-profit registered charity formed in 1997.  It was created to provide women recovering from breast cancer with the opportunity to learn the sport of fly fishing and the art of fly tying in the beautiful and enriching environment of a three day retreat. The three day weekend retreat will be held here at The Crossing.  Four-five volunteers and a maximum of 16 participants attend the Casting for Life retreat.  By keeping the numbers low they are able to have an intimate setting that allows hopes and dreams or worries and fears to be shared in a caring, empathetic setting. This retreat is open to women who are breast cancer survivors, whose treatment has been completed and who have not previously attended Casting for Life. Although the focus for the weekend is on fly fishing, you do not need to have any experience fishing or fly fishing – just a desire to learn and make some new friends. Please go to their website for further information. www.castingforlife.com
Men in Kilts…No Peeking!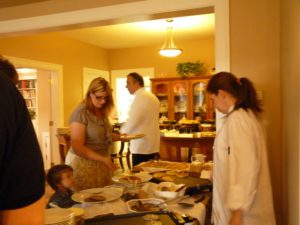 Mother's Day was awesome with about 100 people celebrating Mom.  What's better?  To do it again!  We will start the Father's Day BarBQ at 11.  Join with us to celebrate Father's in a special way at The Crossing.  Call us today for reservations 403-932-3392, Adults $35, Youth (3-17) $20, under 3 Free.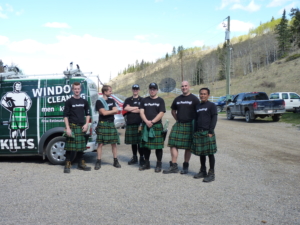 Last week was our yearly cleaning of the windows.  How fun are the Men in Kilts (@MIKCalgary)?  Lots of fun and lots of giggles, not to mention that our windows are spotless!
The Ghost Watershed Alliance Society will have their 2nd Walk in the Watershed on Saturday, June 1st from 10 AM to 1:30 PM.  This Walk will feature the history of First Nations and early fur trading in the Ghost.  This is an easy walk for the entire family.  Please bring your own lunch, unfortunately no dogs allowed on this walk.  Contact Marina at office@nullghostwatershed.ca to RSVP and directions.
Have you made your reservation? We Have…..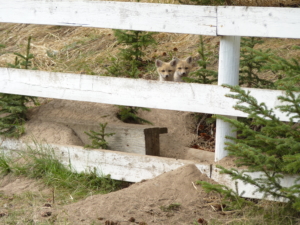 Call today to reserve your spot at our table.  Call 403-932-3392.
It's Mother's Day this week and we officially want to say "Happy Mother's Day!" to all our Mothers, young and younger!
This article taken from the following website: http://www.zenfamilyhabits.net/2010/01/dear-mom-thank-you/ maybe sums it up best:
WHAT I WOULD LIKE MY THANK-YOU NOTE TO LOOK LIKE
Dear Mom I'd like to Thank you:
for always being there.
for at least trying to understand where I'm coming from and for listening to me without judgment.
for allowing me to make mistakes and helping me deal with the consequences.
for teaching me to tell the truth even when the consequences may seem more than I can handle.
for teaching me to be kind, loving, generous and polite.
for teaching me to be respectful towards others while standing up for what I believe in and staying true to myself.
for teaching me to question things and to solve problems on my own.
for making me feel loved and showing me that the best gifts can not be bought.
for teaching me the value of money and the importance of budgeting.
for allowing me to be a kid, to explore, and to just have fun.
for showing me it's okay to be wrong or not have all the answers. Nobody knows everything about everything.
for teaching me that happiness is a choice.
for showing me you're not perfect and even the best make mistakes ;)
With Love Always,
Your child
Don't Forget Mom….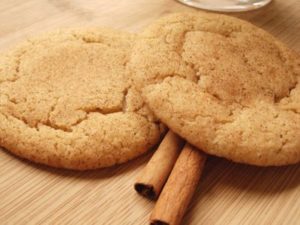 Mother's Day is Sunday, May 12th!  Let us do the cooking for you!
If you have always wanted to experience The Crossing but haven't had the opportunity to do so, we are offering our guests the opportunity to stay overnight.  This is a special that we are only able to offer once a year.  If you would like to get away for the evening on Saturday, May 11th and let Mom sleep in the next morning phone us at 403-932-3392.  We are taking reservations for two seatings;  one at 9 AM and the other for 12:00.
The first Walk in the Watershed for this year, hosted by the Ghost Watershed Alliance Society will be hosted on Sunday, May 5th at 1:30-4:30.  Need more information contact Marina at office@nullghostwatershed.ca.
Snickerdoodles (Double) from Our Kitchen to Yours:
This is a recipe that we use, origin unknown.  Preheat oven to 370F
Cream, 2 cups of butter, 3 cups of sugar.
Beat in 8 tsp. of white vinegar.
Sift, then add…4 cups of all purpose flour, 2 tsp. of cream of tartar, 2 tsp. of baking soda, ½ tsp. of salt.
Cinnamon-Sugar mixture:  2 tsp. of cinnamon, 2 Tbsp sugar.
Form into 1 inch balls and roll in cinnamon-sugar mixture.  Place 2 inches apart on an ungreased cookie sheet.  Cook for 10 minutes.  Cool on a wire rack.
ENJOY!