Hello World!
Welcome to WordPress. This is your first post. Edit or delete it, then start writing!
Summertime and the livin' is easy…
Dad + BBQ + The Crossing = Father's Day Perfection!
Dad…where do we start?
You're the man, plain and simple.  You do so much for us all year long….sons want to grow up to be you and daughters want to marry someone who is just like you.  How can we say thank you for all that you do?  Well, we think we have come up with the perfect gift….our Annual Father's Day BBQ!
Is there a better way to show Dad you care than to bring him out to our amazing setting and feast on Chef Doug and his team's mouthwatering BBQ?  Nope, didn't think so!  The only thing that may make the day even better is that there is time either before or after for Dad to get in at 9 holes of golf since we kick things off at 11am.
Do yourself a favour and leave the gift giving to us with some finger lickin' good eats and treats for Pop.  Some time in the country with loved ones and some great food is just the ticket for making this Father's Day one to remember.
Seating is limited so please call us at 403-932-3392 to make your reservation.
Looking forward to seeing you!
Your Friends at The Crossing
If you can't stand the heat, let us do the cookin'!
There is the a lot that can be said about the kitchen!  It is usually referred to as 'the heart of the home', and the truth really is that,  'everyone always ends up in the kitchen'.  This is all fine and lovely but sometimes you just need a break from the kitchen and we are happy to invite you to ours!
Chef Doug and his team have been working very hard and we have a few exciting pieces of information about our 'heart of the home' that we want to share!
First and foremost, the new menus are officially up on the website and waiting for you to salivate over.  We are pretty certain that just reading them is enough to get you thinking about your next corporate planning session here at The Crossing.  With dishes like….
Pan seared fillet of salmon with sautéed prawns, quinoa, citrus vinaigrette, basil oil, seasonal vegetables….
Or
Oven roasted breast of chicken with purée of root vegetables, maple glazed pearl onions, sesame edamame, sherry sauce, seasonal vegetables…
Or our new vegetarian star…
Potato Gnocchi with roasted tomato sauce, wilted greens, and grilled veg…
We know that your taste buds will not be disappointed!!
Additionally, we have now made it easier then ever to please your entire group!  Traditionally we used to give you two choices from the menu to offer as options to your group.  We are now happy to say that each of the dinner selections are available.  The only problem now is, which delicious dish to choose???
Happy Eating!
Note:  The feature picture is our homemade gnocchi, our new vegetarian star!
Brunch Fit For A Queen…aka MOM!
What does Mom want for Mother's Day you ask? It is pretty simple…time with her family and a meal that a) she doesn't have to make b) she doesn't have to clean up and c) is delicious. This may not seem like a lot but to Mom is means the world (a few painted macaroni crafts and construction paper cards are also Mom favourites)!
So what to do, where to go? Not to worry, we have both of those questions covered…to The Crossing of course for our Annual Mother's Day Brunch Buffet! Bring the entire family and join us for our gourmet country style buffet. And, don't feel that you have to head back into the city right after, bring your hiking shoes and have a family trek down to the river or up to the ridge and take in some of Alberta's finest views.
Another great option is to come out and stay with us the night before! Mother's Day weekend is one of the few during the year that we make our rooms available on an individual basis (Singles $100, Doubles $130). All Moms love a good B&B and Mother's Day weekend at The Crossing is one of the best!
Spaces are limited and filling up quickly, so please phone us at 403-932-3392 to make reservations. Please see below for pricing.
Brunch: Adult $40
Senior (67+) $30
Youth (12-16) $30
Child (4-11) $20
3 and Under Free
We look forward to seeing you there!
Your Friends at The Crossing
Gratitude….a daily gift!
To give is to receive.
When you look up the word gratitude in the dictionary, a definition something to the effect of, "feeling or being grateful or thankful" is likely to appear.  Gratitude is a gift, a daily gift that we can give ourselves, others, nature… the possibilities are truly limitless.  It is important to show gratitude everyday.  Not only does it remind us of all the incredible things that we have in our lives, but, in recognizing that we have much to be grateful for, it sets us up to approach the day in a different manner, a more kind, patient, thankful manner.  You will be amazed how this changes you and the affect it has on others.
It has been a while since we have shared a blog post, and we can't imagine a more important topic to write about to get us back on track.  In this lapse of time our beautiful little retreat has been growing and flourishing.  Everyday we are grateful to be able to do what we do, the setting we are able to do it in, and whom we are able to do it with.  We are thankful to share the beauty of the Ghost River valley, to provide a comfortable and inspiring space to exchange ideas, a gathering table to appreciate delicious food and drink and to foster relationships, and the opportunity to meet so many incredible people who come through our doors.  No matter the season, The Crossing always evokes feelings of gratitude.
With the weekend arriving quickly, we would like to leave you with this beautiful message about gratitude.  This YouTube clip, a TED Talk by award winning cinematographer, director and producer, Louie Schwartzberg, perfectly embodies the simplicity and beauty of what gratitude really is.  Give yourself a gift, the gift of 10 uninterrupted minutes to enjoy and be grateful.
http://www.youtube.com/watch?v=gXDMoiEkyuQ
Have a safe and happy weekend!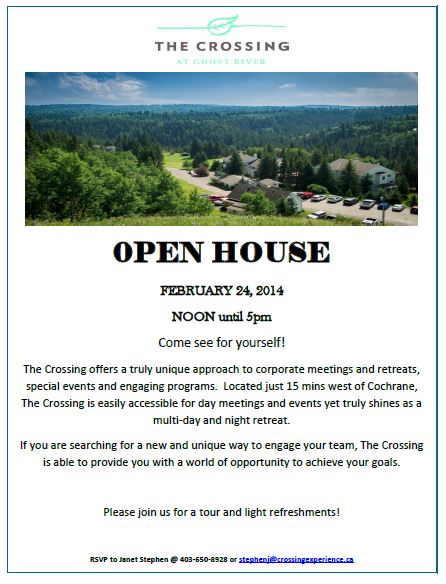 Open House February 24, 2014
Winter Art Retreat February 20-23, 2014
Plein Air Painting Challenge
Register by August 19, 2013….
West Guild Art Retreat August 22-25, 2013