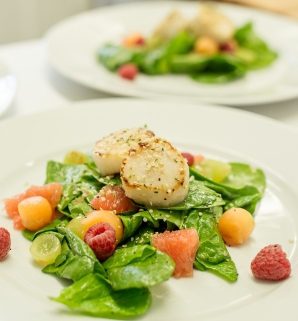 There is something special about summer cuisine isn't there?  Perhaps it is the freshness of ingredients or the increased variety for that matter, but really is there anything more enjoyable than dining al fresco?  Sunshine and summer breezes transitioning to dusk and a candle lit table as you sit around enjoying good food and drink.  My friends, I beg of you think of something better on a warm night.
Luckily The Crossing can provide this exact experience for you and your team.  Whether you are looking for gourmet bagged lunches to enjoy riverside during a team builder, a light and tasty lunch on the main patio, BBQ dinner in the Riverhouse, and last but not least desserts of s'mores and cobbler cooked on an open flame, we are here to make each dining experience memorable because really, that's what its all about!
We strive to bring the best sensory experiences together to create a relaxed and inviting atmosphere; one where you linger around the table telling stories, heading up for 'one last helping', and laughing until you realize it's time for bed and you just can't keep your eyes open a moment longer.  Yes, these are the kind of experiences we want our guests to have.  The Crossing is very fortunate to have an amazing culinary team headed by Chef Doug, who is as lighthearted as his cooking is delicious!
They say that the kitchen is the heart of the home and at The Crossing it is no different!  We encourage you to check back seasonally to see what wonderful creations Chef Doug has concocted for the menu.  And remember, although it isn't a boardroom table, the dinner table is an excellent place to share and grow with your own corporate family!
Enjoy the weekend!
https://crossingexperience.ca/wp-content/uploads/2012/08/Blog-Post-Aug-101.jpg
339
298
crossing-editor
https://crossingexperience.ca/wp-content/uploads/2023/04/castleavery-logo.svg
crossing-editor
2012-08-10 15:51:25
2012-08-10 15:51:25
Sweet and Savory Summer