Category Archives
Our Connection
Hello World!
Welcome to WordPress. This is your first post. Edit or delete it, then start writing!
If you can't stand the heat, let us do the cookin'!
There is the a lot that can be said about the kitchen!  It is usually referred to as 'the heart of the home', and the truth really is that,  'everyone always ends up in the kitchen'.  This is all fine and lovely but sometimes you just need a break from the kitchen and we are happy to invite you to ours!
Chef Doug and his team have been working very hard and we have a few exciting pieces of information about our 'heart of the home' that we want to share!
First and foremost, the new menus are officially up on the website and waiting for you to salivate over.  We are pretty certain that just reading them is enough to get you thinking about your next corporate planning session here at The Crossing.  With dishes like….
Pan seared fillet of salmon with sautéed prawns, quinoa, citrus vinaigrette, basil oil, seasonal vegetables….
Or
Oven roasted breast of chicken with purée of root vegetables, maple glazed pearl onions, sesame edamame, sherry sauce, seasonal vegetables…
Or our new vegetarian star…
Potato Gnocchi with roasted tomato sauce, wilted greens, and grilled veg…
We know that your taste buds will not be disappointed!!
Additionally, we have now made it easier then ever to please your entire group!  Traditionally we used to give you two choices from the menu to offer as options to your group.  We are now happy to say that each of the dinner selections are available.  The only problem now is, which delicious dish to choose???
Happy Eating!
Note:  The feature picture is our homemade gnocchi, our new vegetarian star!
Casting for Life
This week we would like to promote a very special group that is very near and dear to our hearts.
We encourage all of you to check out their website and perhaps join in on their event here at The Crossing. Casting for Life is a non-profit registered charity formed in 1997.  It was created to provide women recovering from breast cancer with the opportunity to learn the sport of fly fishing and the art of fly tying in the beautiful and enriching environment of a three day retreat. The three day weekend retreat will be held here at The Crossing.  Four-five volunteers and a maximum of 16 participants attend the Casting for Life retreat.  By keeping the numbers low they are able to have an intimate setting that allows hopes and dreams or worries and fears to be shared in a caring, empathetic setting. This retreat is open to women who are breast cancer survivors, whose treatment has been completed and who have not previously attended Casting for Life. Although the focus for the weekend is on fly fishing, you do not need to have any experience fishing or fly fishing – just a desire to learn and make some new friends. Please go to their website for further information. www.castingforlife.com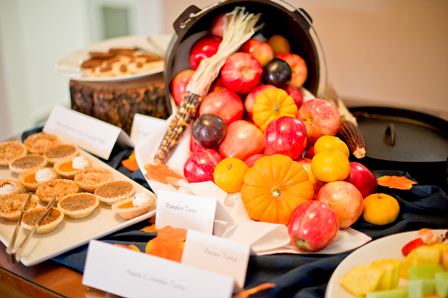 Much to be thankful for…Happy Thanksgiving!
Whatever it may be that makes you happy we hope that you take a few moments this weekend to take a deep breath, reflect, smile, and say "Thank you".  It doesn't matter who you are thanking in particular, perhaps it is a spouse who has put on a great dinner spread, your kids who, although you just finished raking the leaves, have decided to jump in them and made you join, maybe it is even your boss who sent you home early for a little extra family time, or it might simply be giving a respectful nod to recognize Mother Nature and how fortunate we are to live in a beautiful bountiful country. However and to whomever you want to, please take a moment to say thank you for the large or small positives in your life.
We, at The Crossing, want to thank our family, friends, colleagues, guests, neighbours and everyone who has made the last year and a half a possible.  The Crossing is a special place that we are so thankful to have in our lives.  It is truly a wonderful experience to watch the effect that it has on those who visit.  A large part of this has to to with the amazing staff who make everyone feel 'at home', and especially to Mother Nature who has given us such a magnificent gem to steward and share.
Many thanks to all of you and may you enjoy a happy and healthy Thanksgiving weekend!
Corralling All Art Lovers! Part 2
It's official, we have survived the first five days of Stampede largely due to the amazing presence of our first group of artists displaying in the Reflections West Art Show and Sale, our sister company (refer to last week's blog post) at the Hyatt Regency Calgary.
We've decided we have the best spot during Stampede; there are plenty of great people to be met in the beautiful Lineham Lobby, the art is stunning, and last but not least, it's air conditioned!  Really, who could ask for more?  But wait, there is more!  Yesterday morning we moved in our second group of artists who brought in their amazing collections and it looks great!
Come on down for a visit y'all, we have paintings, photography, bronzes, silversmithing and more for you to explore.  And, best of all, admission is free!
Enjoy a safe Stampede partners!
Above is photographer Tracy Connery who will  be displaying with Reflections West Art show and sale from July 11th-15th in the Hyatt Regency Calgary.
Summertime and the livin' is easy…