Looking for the perfect opportunity to leave the hustle and bustle of the city behind?  Well, we just might be able to give you two reasons in the forms of our up and coming Fall retreats!
PHOTOGRAPHY
For all of you shutterbugs out there we are happy to welcome award winning photographer, Tracy Elliot, who will guide you through various sessions on shooting, lighting, and editing from October 16th-18th.  As always, the picturesque grounds provide a stunning backdrop to hone your craft.  All levels welcome!  See our Programs page for more details.
.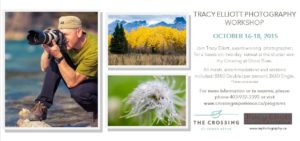 YOGA & MINDFULNESS
Additionally, we are very excited to be offering another Yoga weekend with the highly experienced and dedicated, Tracey Delfs.  Join Tracey from November 20th-22nd for a weekend of Yoga and Mindfulness where she will teach you the 'how' of calming your mind, mitigating daily stressors, and cultivating more contentment and happiness in your daily life.  As with the photography retreat this is an all inclusive weekend!  Just bring your mat and positive energy!  More info on our Programs page.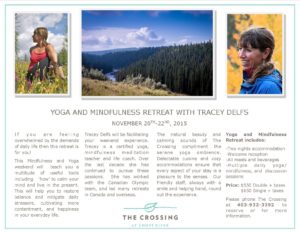 Please feel free to share with friends and give us a call if you would like more information.  You can reach us at 403-932-3392!
See you this fall!